Glass for Design
Remember how your mother told you never to touch broken glass?
Russ Morgan plays with broken glass for a living.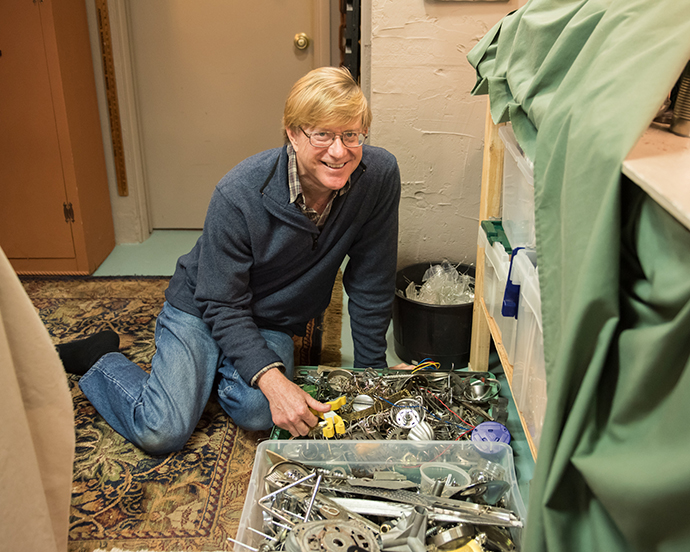 I came across Russ's creations several years ago at Capers, in West Seattle, and knew I needed one, or maybe many, of his chandeliers for my home. It might be an exaggeration to say that I realized I needed one of his glass light fixtures hanging in each room. But not by much.
My most recent Russ Morgan purchase was triggered by a home decor emergency. The pendant lights in my kitchen were elliptical in shape and when they rotated, they never lined up. This made me crazy. I asked my husband, Carlos, if they didn't drive him crazy, too. He said he'd never noticed that we even had pendant lights in our kitchen.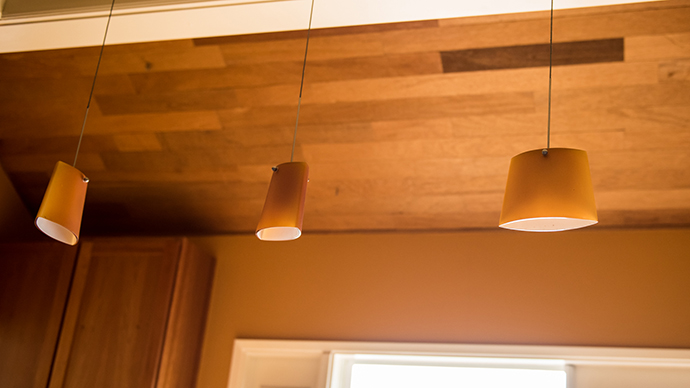 I had already purchased two of Russ's chandeliers. The vintage coke bottle light hangs in my pantry and the multicolored fixture was the basis for my bathroom remodel.
But this situation needed the personal touch, and as I was becoming a regular customer, Russ agreed to come look at the offending lighting situation. We agreed to use the red, purple and gold from my kitchen backsplash, and I released Russ to go forth and make me three pendants.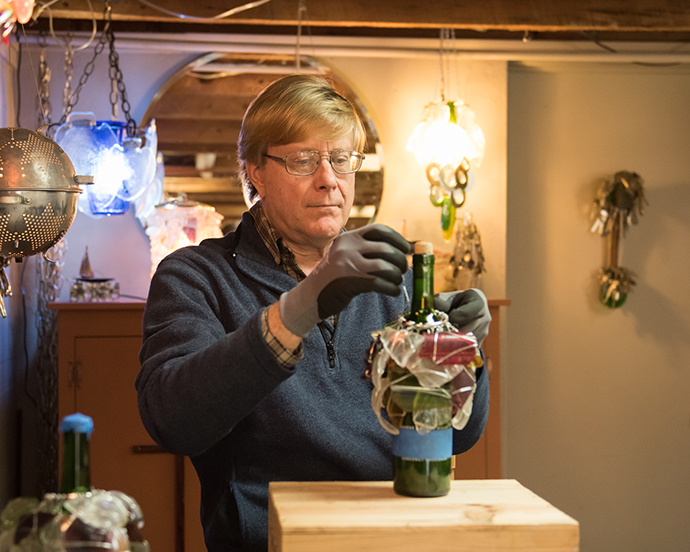 I recently visited his workshop to ensure that my pendant lights were coming together as promised. I love ordering handmade items, but in my perfect world, they would be made as soon as I imagine them, as patience is not my forte.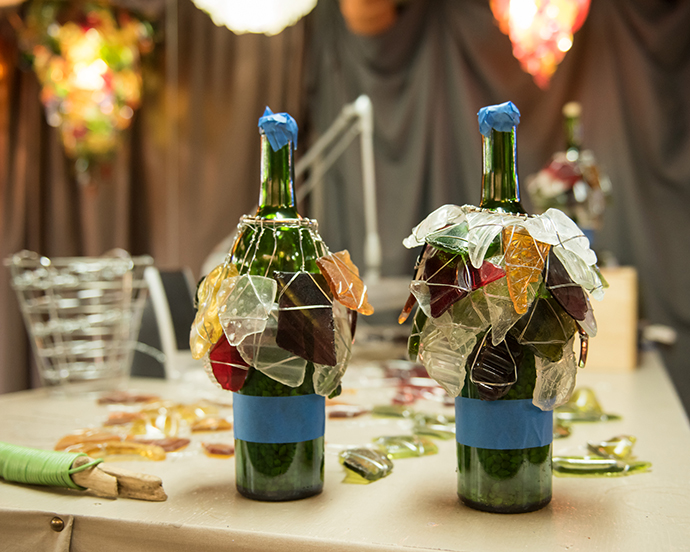 No two lamps are the same, as they are created from vintage cups, vases and other thrift store finds. Russ started out using beach glass, but found it too limiting to work just with the colors it came in: brown, white and green. So he purchased glass in other shades and used a little kid's tumbler to distress it. When that broke down, he found an old dryer and placed the glass in a closed bucket to tumble it. But eventually the bucket exploded, so he upgraded to a cement mixer. Russ buys cement mixers on Craig's List. He keeps wearing them out—he's on his third one.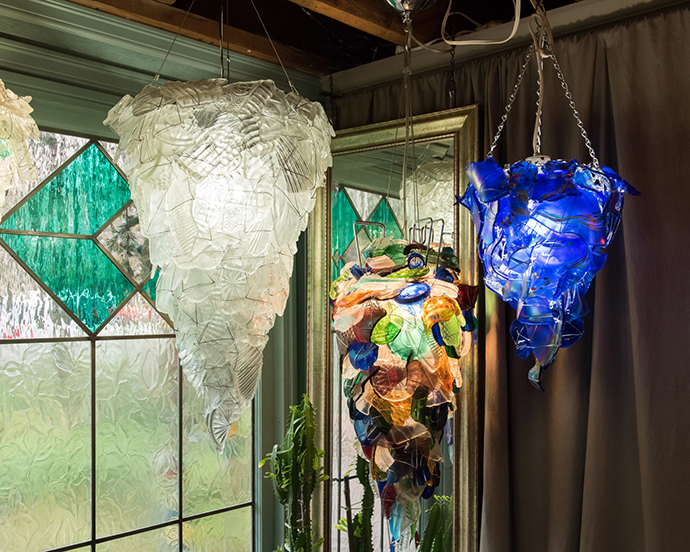 "It's very loud," he said. "I've got 15-20 pounds of glass, plus scoops of sand and water, which helps round out the sharp corners and smoothes the pieces. When I tumble glass with a pattern, it really brings out the texture."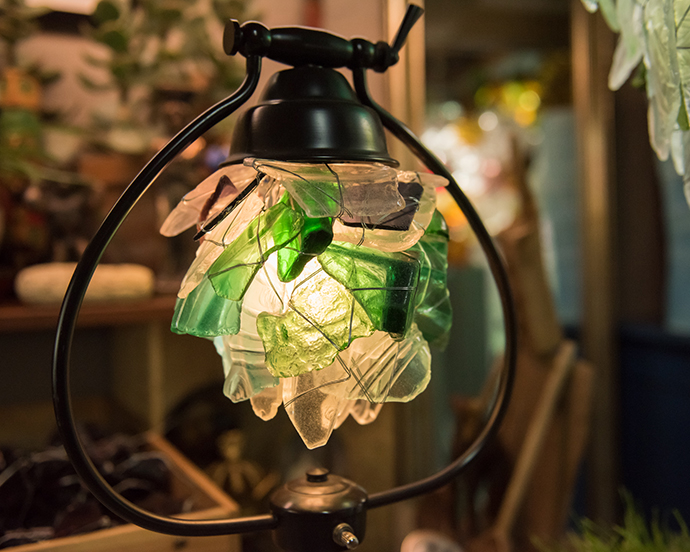 Russ is originally from Pocatello, Idaho. He was an upcycler from early on. When he was teenager, he started raiding old barns outside of town for rusted metal pieces and macrame wall hangings to resell. He became an antique dealer at 15, but his parents had to sign for him at auctions. "I was small for my age, so no one took me seriously, and I could swoop in and clean up at estate sales."
"I think I've always been attuned to beauty. When I was little, I'd say 'look at that tree!' and everyone would say, 'what tree?'"
Russ realized early on that he couldn't survive in Pocatello. There were incidents.
"I created a 4-foot tall prostitute pig named 'Prunella' for a school project at Idaho State. It was removed from the class show to avoid offending the Mormons. My friends and I went to the gallery and removed all of our art in protest."
That day he decided to leave Idaho.
Russ moved to Seattle and worked as a house painter. He lived with his best friend Irma, "a total Harold and Maude situation." Russ realized that Seattle would be good for him because he met other people with similar interests. He spent ten years creating Raku pottery pieces and started making chandeliers nearly a decade before he sold his first one.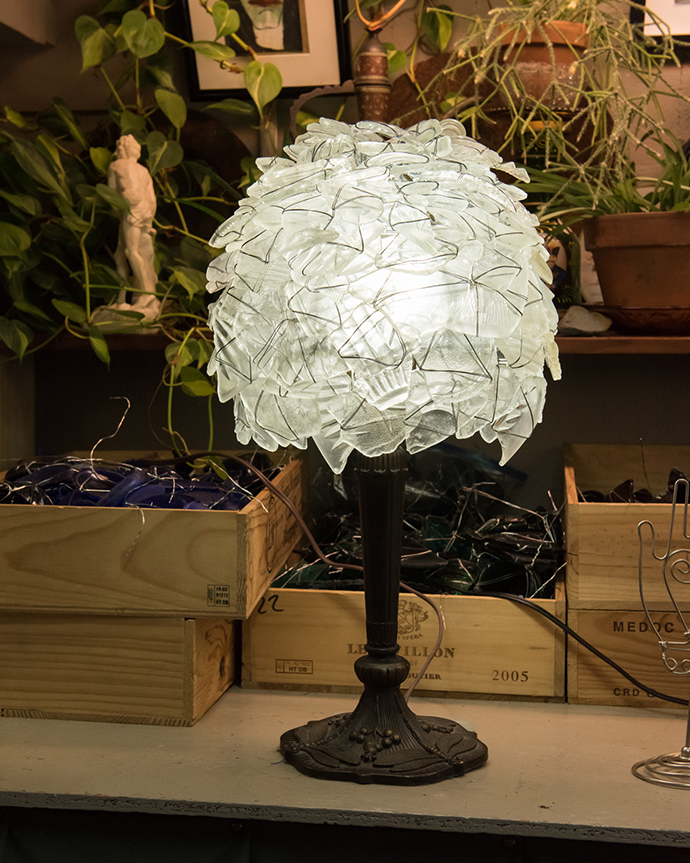 "I was snooping around an old house and found a frame for a crystal chandelier. I was collecting beach glass at the time, and realized I could put the glass on the frame. I got the idea from Alexander Calder to tie the glass on with wire. I still have my first one. I would never part with it."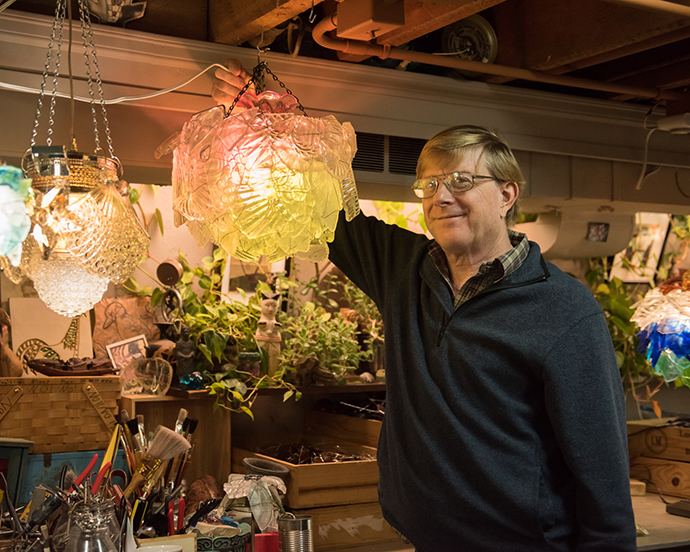 Russ has remodeled his garage to serve as his workshop. He has bins full of colorful glass. He does custom orders.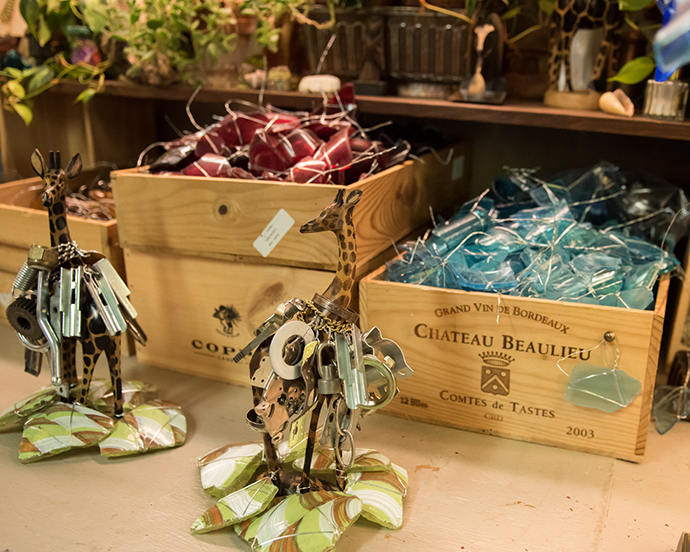 People bring him samples of their upholstery or a piece of their backsplash to match. He can coordinate glass light fixtures to work with any sofa, chair or table in your home. And if you've found the perfect sleeper sofa at Sleepers In Seattle, ask for a fabric sample to bring to Russ so he can make you a coordinating light fixture. That's what I would do.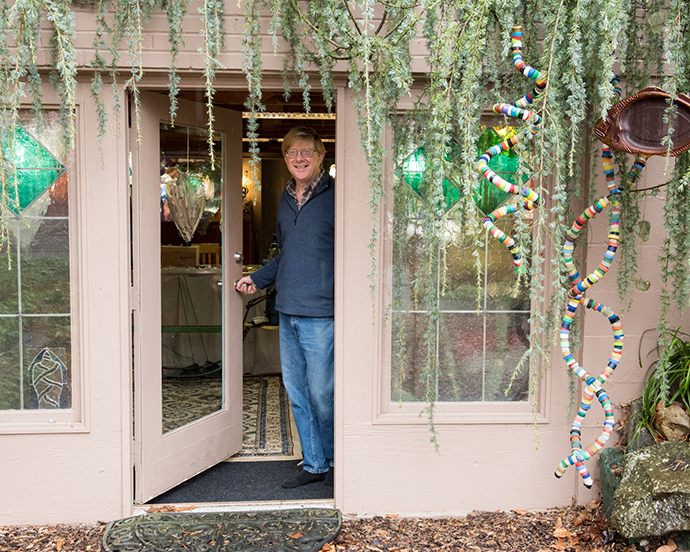 You can reach Russ Morgan Chandeliers at: www.justarumor.com
When I visited Russ in his workshop, he was hard at work on my project. And as soon as the glass light fixtures were finished, I had the handyman install them. I love the way they look and the colorful glow they contribute to our home. And they are symmetrical, so when they rotate, my hair doesn't stand on end.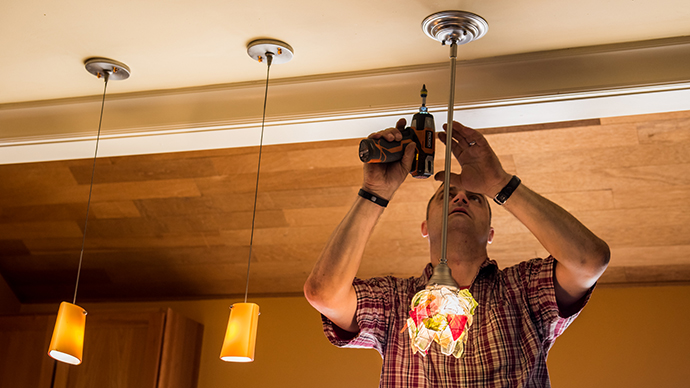 Carlos still hasn't noticed that we have pendant lights in the kitchen.