Pantone Chooses Radiant Orchid as 2014 Color of the Year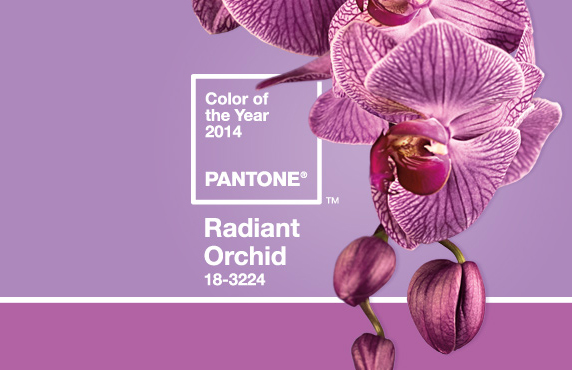 Pantone is best known its proprietary Pantone Matching System, a standardized color database allowing professionals in any industry to match colors for various uses.  They like Radiant Orchid this year because it "inspires confidence and emanates great joy, love and health. It is a captivating purple, one that draws you in with its beguiling charm."
Pantone especially recommends Radiant Orchid for interior design: because "the vibrant color is sure to liven up neutrals including gray, beige and taupe. Uplifting and bold without being overpowering, Radiant Orchid re-energizes almost any color palette and provides a unifying element for diverse spaces."
Every year, color experts meet from several countries in order select the Color of the Year.  Their goal is to find a color that represents our current zeitgeist.  The color of the year may then be used in fashion, paint, automobiles, home furnishings, and even appliances.
Our staff gave various responses when asked "what Radiant Orchid reminded them of".  Some of the highlights:
"A doll-house."
"A Monet painting."
"Easter."
"The poem 'When I Am Old I Shall Wear Purple.'"
"An ice-cream shop."
"Peppermint ice-cream."
"Candy."
"A muted purple."
We want to hear your thoughts!  Would you use Radiant Orchid in your home?