Testimonials
Hi Guys!
You are the BEST! The sofa bed is very comfortable– this is pretty darn good. Perfect. I'll POSTER the internet for sure with great feedback (and don't worry – I won't put on too much pressure so that every sofa is done in time for a holiday)!
Take Care,
Charlotte, NC
Retail Store
We opened our retail store in Seattle, WA, in 1991. We invite all of our local customers to come for a visit. Our team of sofa sleeper experts will help you find the perfect match for your home.
| | |
| --- | --- |
| | |
| One of our associates helping a customer | Our sleeper sofas basking in the rare Seattle Sun |
Although most stores may have two or three sleepers on hand, we keep over 100 different sleepers in stock and ready to deliver. If you need one in a hurry, you can choose from any of these today and have it delivered ASAP-- usually within 24 to 48 hours. Of course, you are always welcome to special-order a sleeper sofa in any style, covered in any upholstery, and with the mattress of your choice.
Our own Sleepers In Seattle trucks deliver throughout the Puget Sound area. We deliver stocked and special order items Monday - Thursday. You can also arrange pick up Monday - Thursday, 10a-3pm PST.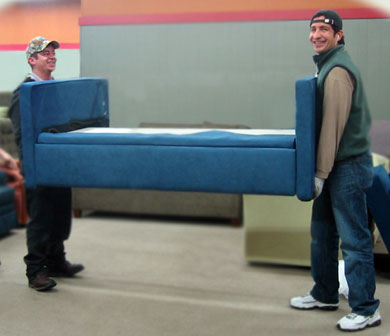 Location
Our retail store is located in the heart of the West Seattle Junction , where there is always free parking in front and in back. In addition to seeing our selection of sleeper sofas, you can get award-winning pastry (from Bakery Nouveau), check out local artists (at Arts West), browse music (at Easy Street Records), and feast on deli sandwiches and GREAT ice cream (at Husky Deli). We look forward to meeting you.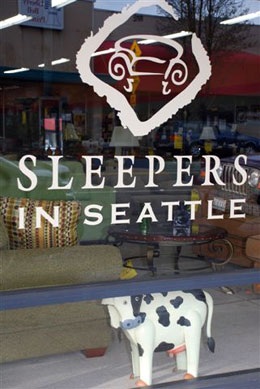 Sleepers In Seattle
4741 California Ave SW
Seattle, WA 98116
Phone: (206) 932-8500
Fax: (206) 932-6981
Email: sales@sleepersinseattle.com
Store Hours:
Monday through Saturday: 10:00 am to 6:00 pm
Sunday: 12:00 pm to 5:00 pm