Testimonials
Hi Guys!
You are the BEST! The sofa bed is very comfortable– this is pretty darn good. Perfect. I'll POSTER the internet for sure with great feedback (and don't worry – I won't put on too much pressure so that every sofa is done in time for a holiday)!
Take Care,
Charlotte, NC
About Sleepers in Seattle
About Sleepers in Seattle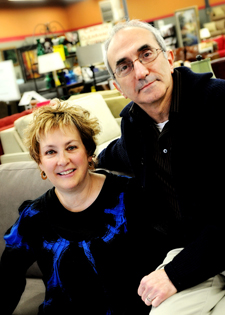 Carlos and Meryl Alcabes

Based in Washington State, Sleepers In Seattle opened for business in 1991 as Also Furniture--a West Seattle neighborhood furniture store. At the turn of the millennium, the name of the game changed; quite literally. Owners Carlos and Meryl Alcabes (who now work with their two eldest sons, Jacques and Max) decided to turn their business into a specialty store, focusing entirely on sofa beds, and converted the business' name to accommodate this transition. From this crucial decision, we have grown rapidly to become the top destination for sleeper sofas across the country.
At Sleepers In Seattle, we have two primary goals: to offer the greatest selection of sleeper sofas in the United States, and to provide the absolute best customer service. Our selection encompasses almost 60 sleeper sofa styles, eight sizes, several hundred fabrics, seven mattresses, and additional sleeper options and upgrades. To us, Customer Service is comprised of trust, quality goods, communication, fair prices, and most of all, honesty.
In 2005, the first version of sleepersinseattle.com went live; though it has since grown a great deal. Most recently, we added the Design Center, which allows customers to see what their sleeper will look like in any of the available upholsteries. We also added our Sleeper Finder, in order to help our customer track down which sleeper sofas will fit the exact dimensions needed. We want to make it as easy as possible for our customers to choose the right sleeper for their home.
We offer delivery throughout the United States, including Alaska and Hawaii. Most of our deliveries are white-glove; we bring the furniture inside, unpack, and set it up. New sleeper styles and fabrics are continuously added to our selection. In 2010, our National Division increased sales ten-fold; thank you Sleepers In Seattle customers!
| | |
| --- | --- |
| | |
| The signs change with the times | Tons of upholsteries to choose from |