Testimonials
I wanted to tell you how happy and satisfied we are with our new sleeper chair. Your sales and delivery staff are by far the most knowledgeable, professional and accommodating folks that I have met. Thank you for going out of your way to oblige our personal requests.
West Seattle
Yes, Free BRONZE Indoor Delivery Nationwide!
We ship our products throughout all 50 states, as well as Canada, Mexico, and beyond.
FREE BRONZE Indoor Home Delivery Nationwide
We understand that dropping your sofa on the curb is not the optimal solution. With the growing volume of our sleepers being shipped across the country, we are now able to offer our in-home delivery service to the majority of our customers absolutely free. Our shipping service will call you to arrange a convenient delivery date and time once your sleeper has arrived in your area. Lead-time estimates are noted towards the top of every product page.
Bronze Level delivery includes inside placement of any and all products on your order. This delivery solution is available for one or more sleeper sofas, in any of the 48 contiguous United States.
Platinum Level delivery is available for $100, and includes inside delivery to any room in your home, as well as unpacking, and stair-carry if necessary. We even take out the trash when we leave!
Additional Notes:
Bronze Level shipping and delivery for our Quick-Ship items is $75, not free; and Platinum Level delivery for Quick-Ship items is $175.
There are a few locales in the U.S. that present extreme delivery challenges, often due to ferries, tolls and other hard to reach locations. For these limited areas, there is a Beyond Delivery charge between $50 and $800.
Certain accessories, such as replacement mattresses or cleaning products, may not qualify for free delivery.
Certain buildings require a Certificate of Insurance. In these cases, an additional charge may apply.
Stair carries generally include up to 2 flights; more stairs may incur additional charges.
Disassembly and removal is not offered nor it is part of Bronze or Platinum Delivery.
Please don't hesitate to give us a call at (888) 922-SOFA (7632) or Contact Us with any additional questions.
Please note: This policy may not cover all in-store, local purchases. In our
Retail Store
, we often run special offers and discounts. Please inquire with an in-store associate, by phone, email or in person, to find out which sleeper options will be covered by this policy.
While our Free White-Glove service does not extend to these states, we do have solutions in place from Juneau, AK to Kapalua, HI.
Alaska
: We are lucky to be based so close to the Port of Seattle. We are happy to offer FREE delivery of your sleeper to any barge service you may have worked with before. If you do not have an existing relationship with any Alaska/Seattle shipper, we are happy to help coordinate one with you. Delivery to anywhere outside the Port of Seattle may incur an additional cost.
Hawaii
: We are proud to offer home delivery throughout the Islands for $499 per piece. While this is not a White-Glove service, the charge of $499 does include shipping and delivery all the way to your home.This is CURBSIDE delivery and does NOT include inside placement.
We happily ship our sleepers from Seattle, to anywhere in the world! We are not able to post any definite costs for deliveries beyond the United States, due to all the variables such as distance and customs. Please inquire via email or call us at (888) 922-7632 to work out a solution.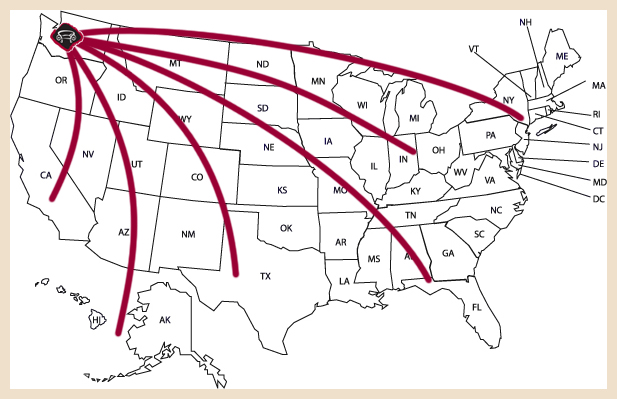 We deliver anywhere in the United States!