Kids and Furniture: Can this Relationship Be Saved?
One Mom's Kid-Generated Furniture Mishaps and How to Avoid Them
For decades, starting in 1953, The Ladies' Home Journal ran a feature called "Can This Marriage Be Saved?" A troubled relationship was described by the wife, and then the husband was allowed to vent, and finally the therapist announced what was needed to save the marriage. My mother subscribed to the magazine and I remember reading this column as a child, wondering how men and women ever managed to live together. It was quite alarming.
Fast-forward a few years and I'm raising three boys. And they've pretty much destroyed
every piece of furniture we own. And I'm wondering, "can this relationship be saved?" Is it possible to live with children and furniture under the same roof?
What did you say? Your kids always respect your couch? Oh sure, mine do, too. Haha. That's a lie.
My mother's solution: the living room was only for guests. No one ever found out who was considered a guest, because the living room, with its white sectional and designer coordinated accessories, was off limits to anyone I'd ever met. As an adult, I never went near the living room.
This is my mother's sofa. It was purchased in 1959. It's still white. I still don't sit on it.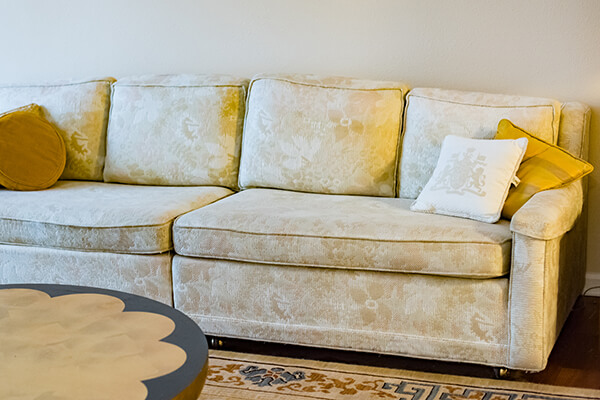 But I wanted my boys to enjoy our home and to feel free to have their friends over.
Son #1 and Son #2 had a fight on top of the coffee table. The coffee table lost, as it's glass top was shattered. This happened a few times until I sprung for a safety-glass
Son #3 sat on the end of the dining table and a piece just split off. This is how it looks after glue and reinforcements.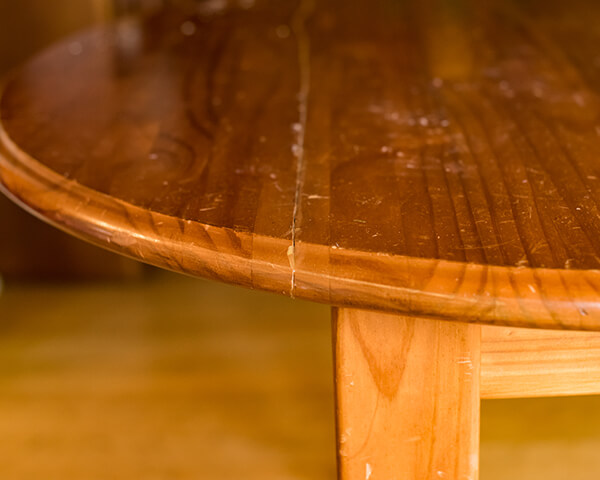 Another view of a dining table mishap, after one of my children experimented with the contents of a glowstick. I'm not sure what's in there, but nothing you'd want on your table. Or your skin. Or maybe in your house at all.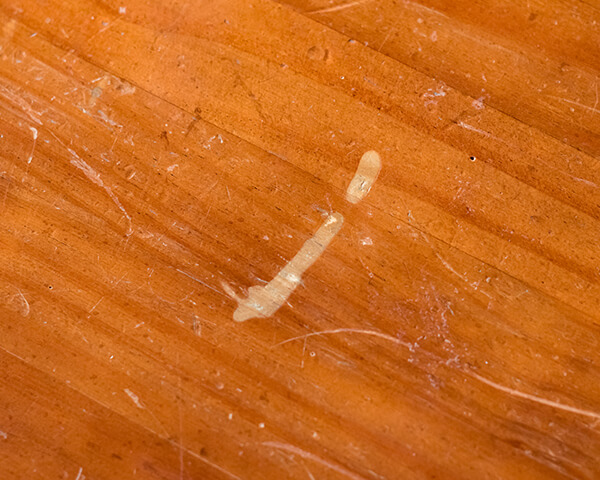 There are ballpoint pen marks, unidentifiable splotches and questionable slits in the fabric on our arm chairs.
There is an oddly compelling stain on our kitchen bar when a graphic design was transferred to the wood from some unknown source.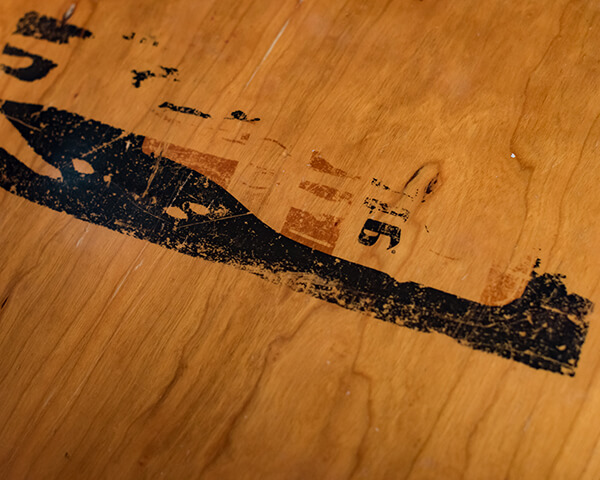 Our refrigerator wears this goofy grin it acquired soon after arriving in our home. I'm not sure which of my children applied it, but the original tape has disintegrated into a gooey mess and I haven't been able to remove it.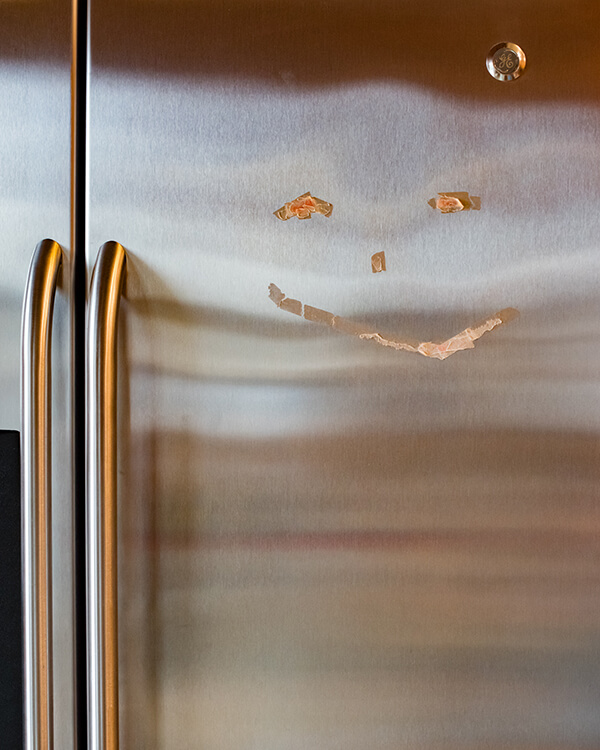 My boys all enjoyed entertaining their friends at our house, so it was never a question of one or two boys on the furniture. If they were at home, we had five or ten or twenty boys (the girls came later) lounging, bouncing on and generally disrespecting the chairs and sofas.
So, the first thing to remember about decorating a home with children is: avoid bringing any furniture into the house until your kids are in college. Haha, kidding!
Here are a few tips for kids-friendly home decor:
Forget the colors white, cream and light anything. Look for saturated color and patterns on furniture, walls and countertops. Even ceilings. My ceilings are painted blue. I tell my friends that it makes the rooms feel spacious. Sky-like. But the real reason is I remember the damage wrought by an agitated and then opened can of grape soda in the hands of a dangerous criminal—I mean child—and the stains that were never removable from the white walls and ceiling. Amazingly, my kids didn't do that. It was a friend of mine, at my one-and-only slumber party in my parents' newly-remodeled basement.
Look for, what we call in the business, "bulletproof" fabrics. Usually, you'll find that engineered fabrics will hold up to more abuse than natural ones. Microfibers will outlast cotton or silk. Look for fabrics that are washable (cleaning code W for those that take a water-based cleaner) and that have a high thread count. Velvet, denim and twill all wear well.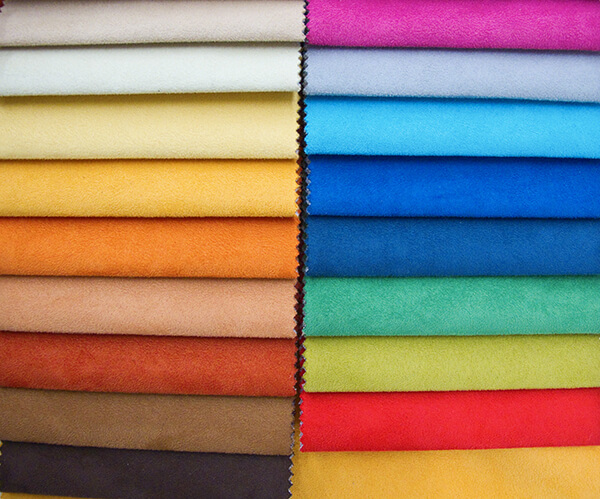 Details to avoid: Throw pillows. They scream "pillow fight" to any red-blooded child in the zip code. Buttons on upholstery. Just begging to be picked off and played with or eaten. Shelves and dressers that are not secured to the walls. Did you see that video on Facebook of the toddler trapped under a chest because he and his brother were jumping in the open drawers? Of course they were.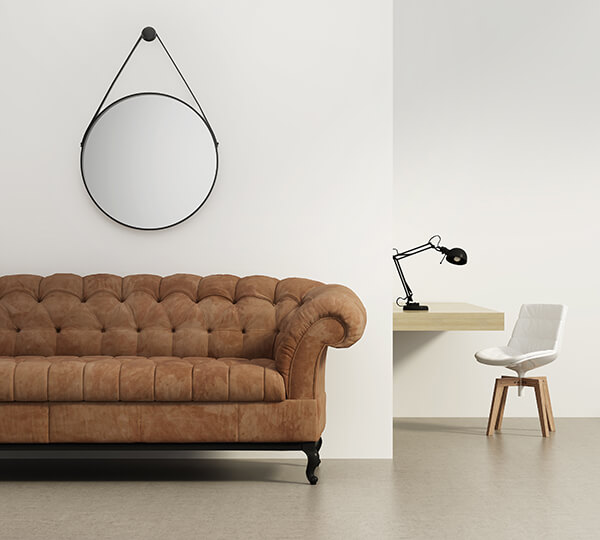 Learn to love leather furniture. Scratches in leather give it "personality." Think baseball glove.
You'd have to work hard to seriously damage a catcher's mitt.  Not that kids won't attempt it. Best virtue of leather: it can be repaired. You can get a leather expert to come to your home and do magical things to a rip in the surface of your couch, and you'd never know the cut was there. Take the cost out of your kid's allowance because it won't be cheap.
For floors, make sure that you can damp mop whatever surface is underfoot. Area rugs are a tripping hazard and are hard to clean. Wall-to-wall carpet is much harder to maintain than solid surfaces such as tile, wood and linoleum.
It makes sense to invest in high-end wood furniture if you love the design and are willing to refinish it in a few years. If not, opt for inexpensive tables and cabinets that won't be missed once they've taken a beating. Look for rounded corners on tables to avoid the inevitable eye-meets-edge-of-coffee table incident that lands you in the emergency room with one of your children.
So enjoy living with your kids and with your furniture. And if you think that once your offspring have left home for good and you can redecorate your home however you like, think again. Because if you're lucky, soon it will be filled with……….grandchildren.