Five Clever Home Decor Ideas to Try Right Now
And All of Them are Budget-Friendly!
We just became empty-nesters.  After complaining about how quiet the house was without a roomful of teenagers at all hours of the day and night, I realized that this was my opportunity to do some redecorating and exchange the kid clutter for some of those carefully curated chic home decor ideas I've been considering for a long time.  As no one would ever consider my home curated, chic or encompassing any "decor ideas" I have nothing to lose.
Home Decor Idea 1: Mix and Match Dining chairs
We are sort of forced into rethinking our dining chair situation.  This is how the chair cushions on our dining chairs look.  I blame the dog.  However, alert guests notice we don't have any pets, which makes this excuse hard to pull off.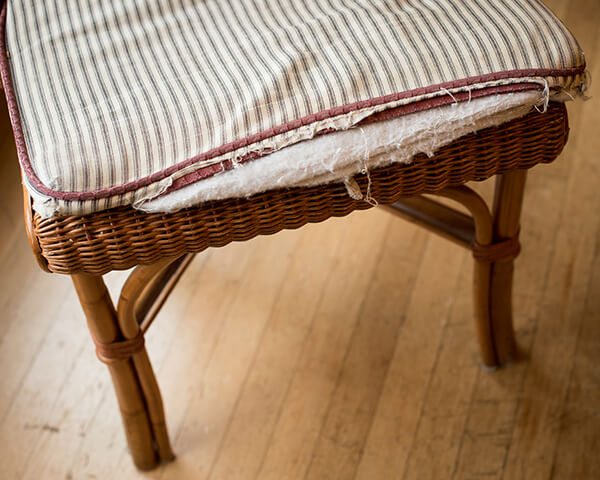 I've been eyeballing those suggestions on mix and match dining chairs online for a long time. The concept is to buy either all matching chairs, in a variety of colors, or buy all different chairs and refinish them to match.  Or just use seating elements that don't match at all, which reminds me too much of how I decorated my first college apartment so that's out.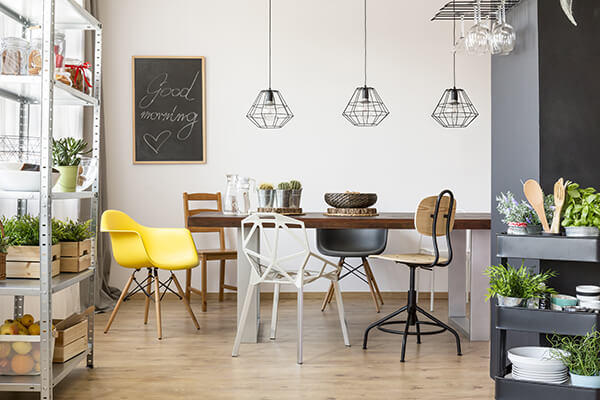 I always love the shopping element of any new project, so I have now purchased 8 vintage chairs to refinish and reupholster in the same fabric.  Here are three of them.  They are similar in scale, width and design period.  The one on the right is Biedermeier.  Don't I sound knowledgeable?  Actually, aside from reading the attached sales tags, I know nothing about where or when these chairs were made, but I like them together, and that's what counts, right?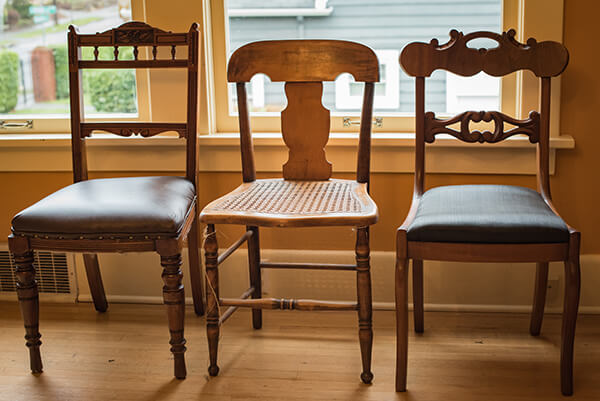 So I now have my original 6 dining chairs with frayed cushions, 8 assorted antique chairs waiting to be refinished, 2 of the same metal chair that I thought looked great in the Los Angeles showroom but they are too short for the table, and a variety of other odd chairs that I purchased to be used as props for my photography business but they don't really live anywhere.  Between the kitchen, dining room and living room I have 23 assorted chairs.  But still, this is a great idea.  I'll check back in once I've finished the project.
Home Decor Idea 2: Display Something Unusual on Your Wall
We lived in Spain for a long time, and whenever we traveled around, I was on the lookout for hand-painted plates to display in the dining room.  They were always sold in these massive pottery showrooms on rural country roads.  My kids came to the realization that when we slowed down in the middle of nowhere, it meant that Mom was about to hop out and shop for ceramics and they would scream "NO NO NO DON'T STOP" from the back seat.  We did that so often I suppose I should add trauma therapy for my kids into the cost of these inexpensive decor elements.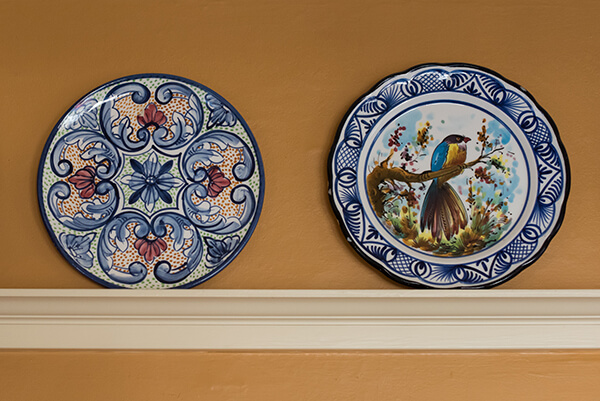 Many unusual items can be displayed on the wall—and when framed, take on a new dimension.  Foreign coins, your kids' art, embroidery, buttons, a scarf are all ideas that can be affordable and intriguing.  If you've picked up something while traveling, great.  And if your latest trip was to the Goodwill Outlet store, even better.  "Traveling" is such a relative term, don't you think?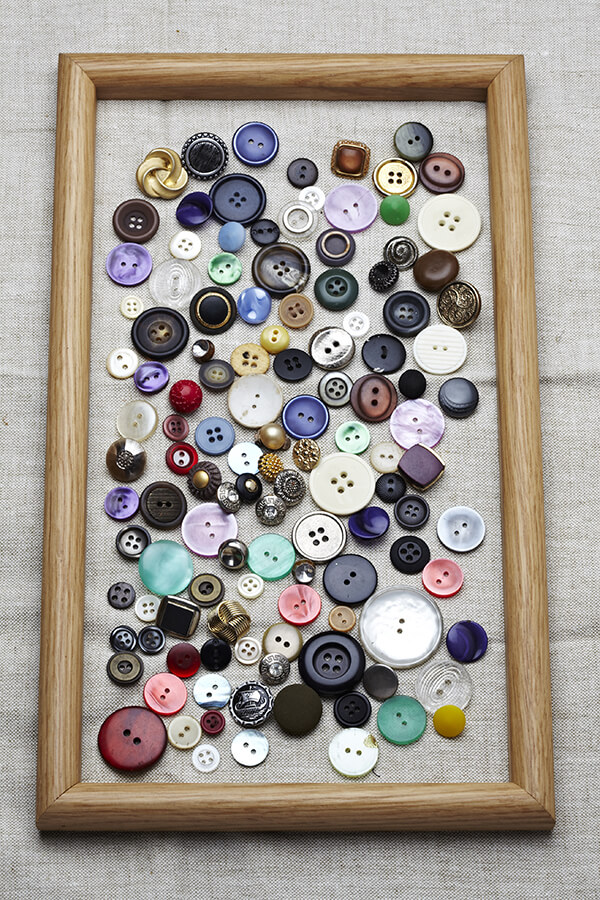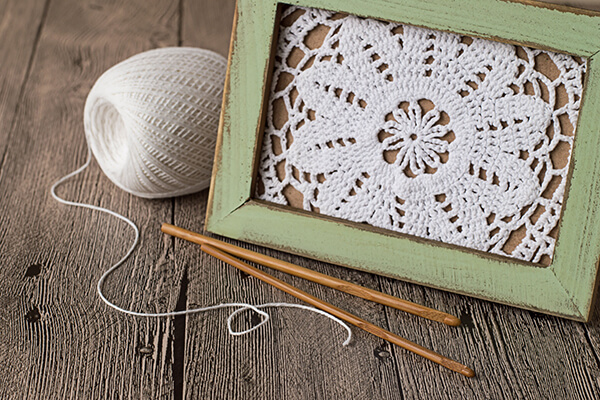 Home Decor Idea 3: Hang a Collection of Mirrors
Pick up an assortment of mirrors at the thrift store and just spray paint the frames all the same—or an interesting array—of colors.  I toss around the term "just spray paint" as if I would do this in my driveway, but I would totally hire this out as I'm not even a teensy bit handy and I hate the smell of paint.
These would look amazing hanging over a sofa your living room or above a sleeper sofa in the guest room.  Or, be really edgy and hang them in the bathroom.
I have a friend who did this to frame the seating lists for her daughter's wedding.  It looked spectacular and unusual.  This friend also created all the table decorations for the event.  I question her sanity.  But the wedding was gorgeous.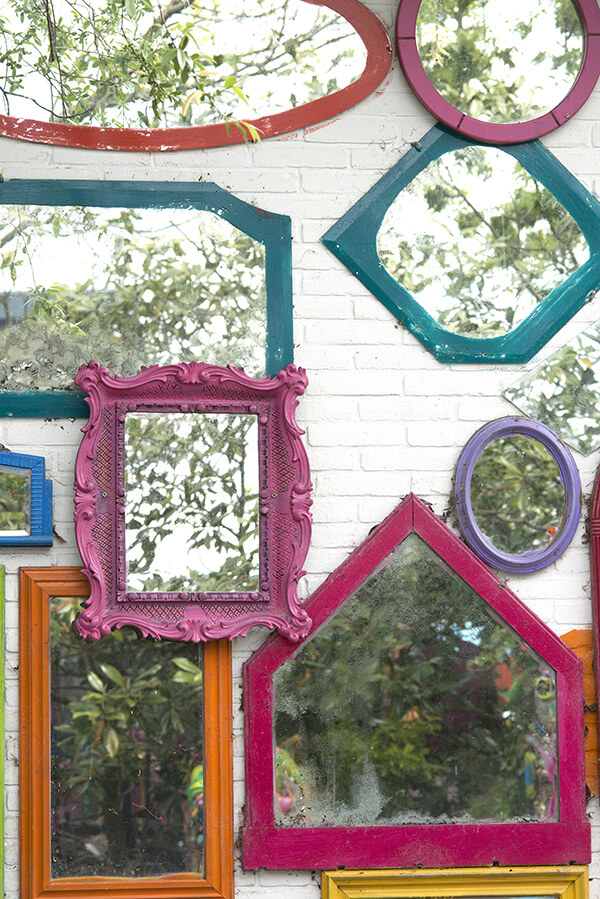 Home Decor Idea 4: Display a collection of virtually anything
As a dedicated collector, I think the world of this idea, although I imagine most of my friends would be happier living with just one or two collections.  Or, maybe none.  If they are really boring.  No judgement here, of course.  However, I'm usually in the More Is Better camp, and I like being surrounded by Stuff.
Create a rotating display on your dining table.  Put an extra shelf above your mantle.  Display a collection in a curio cabinet.  No two assortments will ever be identical, so let your personality shine through your unique displays.
This is my hand collection.  I don't think my family even realizes I collect ceramic, wood and fabric hands, in addition to the miniature chairs, tiny boxes, birds, blue bottles and Spanish ceramics that clutter, I mean adorn, our home.  Someday downsizing is going to be a major challenge for me.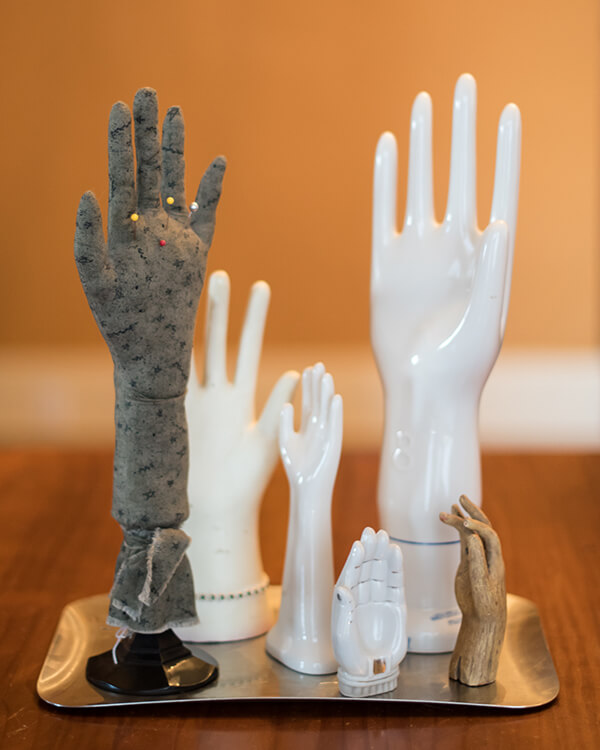 Home Decor Idea 5: Paint Just One Wall
Four walls of color can overwhelm a room, but painting just one wall in an accent color can be off-beat and clever.
Ideas to keep in mind when painting just one wall:
Use an existing color from one of the room accessories or furniture.
Select the wall with an architectural feature you'd like to highlight.
Paint just the inside of an arch or nook with a contrasting color.
Use an accent color on the wall behind your bed.
Use color theory for choosing a hue, remembering that cool colors give the effect of a wall receding, and warm colors bring things visually closer.
Experiment!  You can always repaint if you didn't get it quite right the first time.
You may have friends that don't understand the concept behind painting one wall a contrasting color.  They are probably not creative.  Maybe they are crazy.  Tell them at your own risk.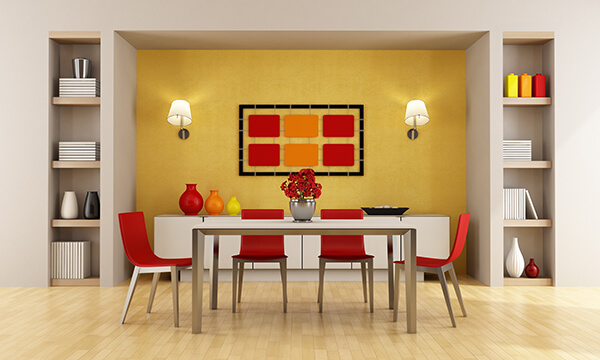 And who coined the phrase, "no compulsion in the world is stronger than the urge to rearrange the furniture?"  OK, maybe no one.  But moving your furniture around the house is a great way to:
Get some needed exercise
Create the illusion that you redecorated.
During the night, as you bump your shin on something that wasn't there yesterday, you will thank me for this inspired idea.