Introducing: Paragon – The Revolutionary New Sleeper
We at Sleepers in Seattle are welcoming the brand new Paragon Sleeper from Lazar Industries through our doors. It's a huge leap in sleeper technology. Seriously folks, welcome to the future, population: comfort.  The Paragon Sleep System offers unparalleled sleep comfort from head to toe with a conforming and supportive gel-memory foam mattress. We have run it through plenty of testing. You know, we had to be sure of its "sleepability." It passed with flying colors.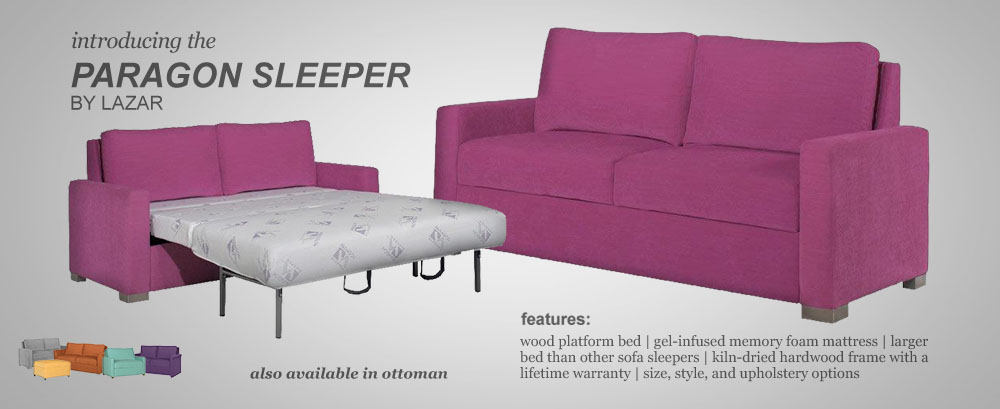 With such a comfortable mattress, you might think that a bulky frame was required to accommodate all that comfort. Not so. The Paragon mechanism has one of the smallest footprints in the industry! Fully extended, the Paragon Sleeper only reaches 84", making it a great choice for small rooms, studios, or condos.  As an added plus, there's no longer a need to stack all of your cushions in a tower next to your sofa when you're ready to go to bed, as all of the pillows stay attached and swing out of the way.
So what happens when you just want to take a nap or lounge around the house on one of our typical rainy Northwest days? As a professional nap artist, I speak from experience: Wow. The Paragon sleeper features a high quality fully sprung seat cushion that says "snuggle up, were going to be here for a while."  Come in and request a demo to experience the innovation today.
This entry was posted in
General
,
Informative
,
New Sleeper Sofas!
,
Sleeper Sofa Buying Guide
,
Sleepers On Sale
and tagged
best bed
,
best sleeper
,
lazar
,
lazar industries
,
made in the usa
,
paragon
,
platinum
,
premier
,
sleeper sofa
,
sofa bed
,
wood platform
. Bookmark the
permalink
.