Our Favorite Designer's Favorite Tips for Transitional Design
9 Best Transitional Design Secrets from Rebecca West
OK—the first thing you need to know about Rebecca West is that she has a TARDIS in her office.  I mean, who wouldn't want to hire the interior designer with a TARDIS as part of her personal office decor??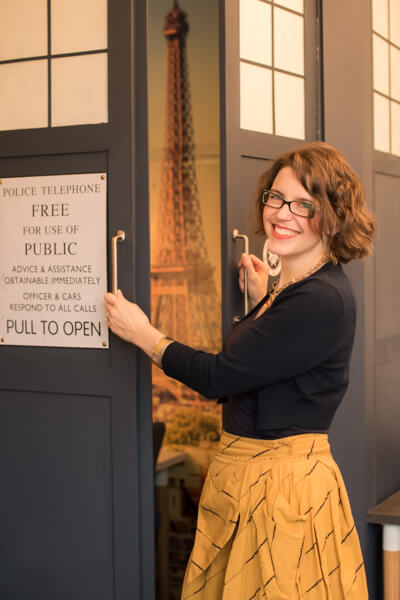 I think that's all you need to know if you are looking for an interior designer.  And for those of you who are confused at this point—do you not watch British TV or what?
So after we got over how amazing Rebecca's office was (half of the interview) we got to actually talking about interior design.
Rebecca is one of the recommended designers in Savvy Home's Interior Design Network and I was excited to interview her.  For some reason I always think I'll pick up some free interior design advice when I meet a designer and I will use it to cleverly transform my home into a space that looks like it has been subject to some good influence.  That has not happened yet.
Rebecca's specialty is transitional design.  You know—for those moments in our lives when we have just segued from one chapter to another.  Willingly or not.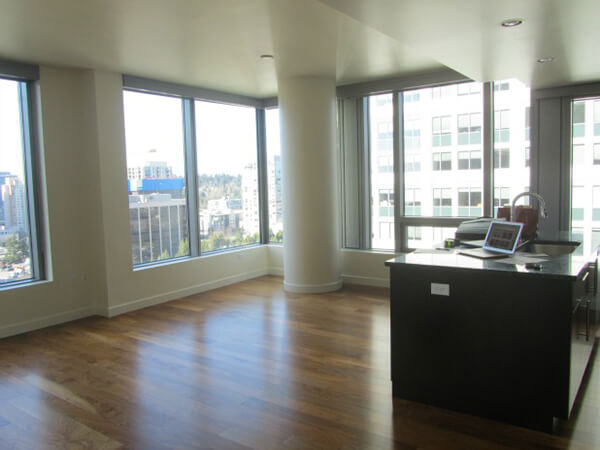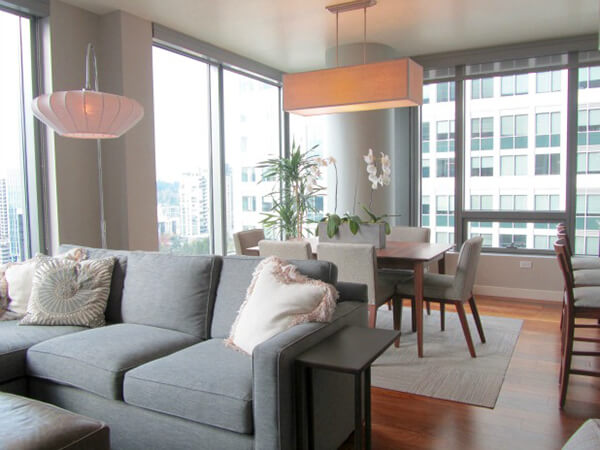 These are the opportunities that Rebecca finds can be the most impactful, design-wise.  Going through a divorce:  when things quiet down, this can be a great time to redesign your living space.  Becoming empty nesters:  life changes when the kids move out.  Transitioning from college to first job:  a "grown-up job needs grown-up design," notes Rebecca.
You know the moments.  Something in your home is not working for you anymore.  Whether or not you've just experienced a transition, something has shifted.  There is energy available.
I know that feeling.  For me it's when I'm expecting house guests.  Suddenly my home, which seemed perfectly fine last week, now looks like it should be featured on an episode of Hoarders.  After a brief but energetic cleaning and minor remodel, we somehow revert to the "Crime Scene" aesthetic as soon as any guests have left the premises.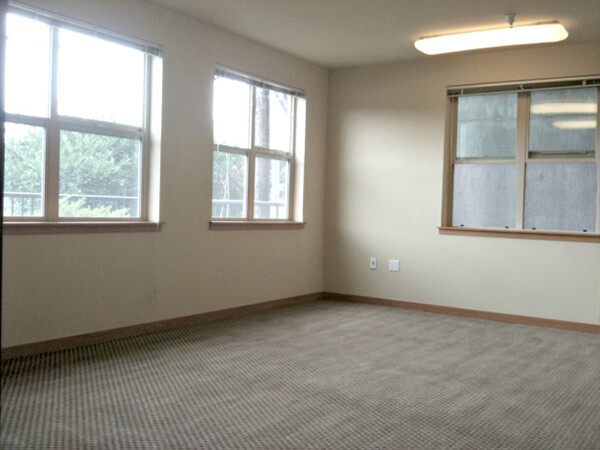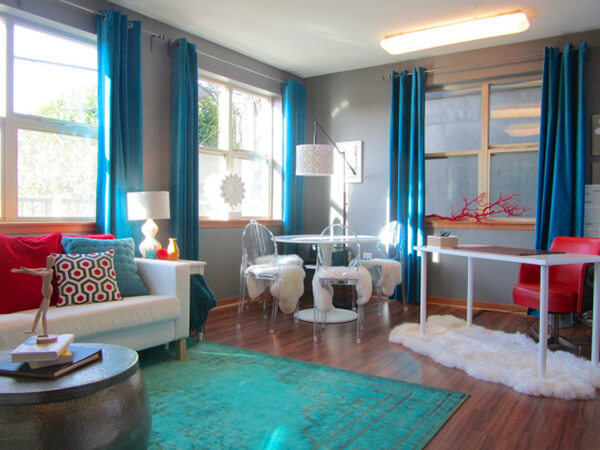 So at this point I am really paying attention to Rebecca.  Of course I can't hire her until I clean up a bit……..so that I'm not embarrassed when she comes over……  Rebecca laughed when I told her that, and she said that lots of her clients apologize for the clutter in their homes.  (I'm sure they have nothing like what I have in terms of clutter.)  She let me know that although everyone assumes that, as an interior designer, she is judging them—but she's not.
Rebecca has some tips for those of us who find ourselves in the Interior Design-Challenged Demographic like me.
When working on a room remodel:
Scale is the first thing to consider.  Before you shop for that new sofa or sofa bed, take measurements.  This applies to everything, including rugs and lamps.  Things look different in a warehouse.  Size matters:  don't necessarily place a lot of small pieces of furniture in small spaces—it can make a room look cluttered.  In a small space, don't waste inches on a couch with rolled arms.  And remember that a two-seat sofa will rarely seat three people—no one is really ever comfortable on that gap between the two sofa cushions.
Look for furniture that can multitask. Like a bench that can also serve as a coffee table.  Or a drum table that will also work as a stool.
Balance: consider furniture lines and design.  Mid-century chairs, with their slender legs, might be too light to balance a large sleeper sofa in the same room.
Rugs should be as big as possible to anchor the space. Furniture goes on top.
Art doesn't have to be pricey. Rebecca's secrets for a a quick and smart design:
Go to Ikea and buy matching frames
Custom mat artwork from a calendar you love
Create an instant gallery wall for over that sofa or sofa bed you've just  purchased, or in the empty hallway that needs a pick-me-up
Lamps have two functions: to provide light and to work as art elements. They should not overpower other furniture, but need to be substantial if there is a heavy sectional in the room.
"More than anything, your home should have your thumbprint on it." So:
Listen to yourself, not to your best friend.  She lives in a different house.  And you don't have to decorate with blue if you don't like it, even if your last designer loved blue and used it everywhere.
Not every element has to have a "wow" factor. Not every component  can be a star.  You also need those supporting actors.
When a whole room is done, it's the perfect combination of elements playing well together. You might not have chosen that wall color, or this particular rug, but the way the ingredients relate to each other just works.
Homework. Rebecca never makes the design decisions for her clients.  She has them fully participate in the project.  For starters, she has them go to Pinterest or Houzz and find 10 rooms that speak to them.  From those examples, she will know what her clients would love to come home to.  Most people are consistent, and will repeatedly choose rooms that are bright and airy.  Or will reliably select the same colors.  A touch of natural wood.  Strong graphic elements.  She believes in educating clients so that they understand their tastes and she helps them see what they are drawn to.
Rebecca feels strongly that "Happy Starts at Home"  (Coincidentally, the name of her book, which is helpful to read before beginning any home improvement project.)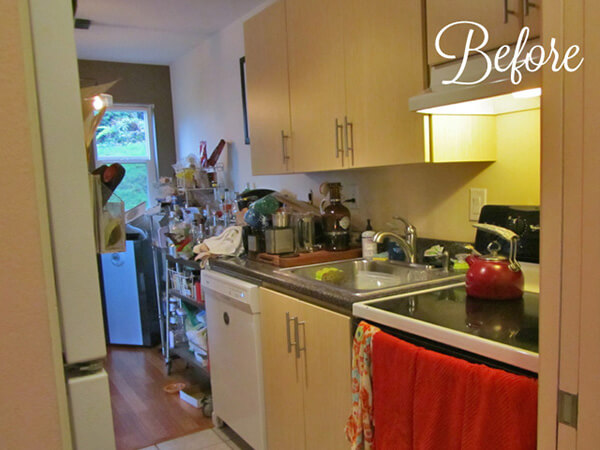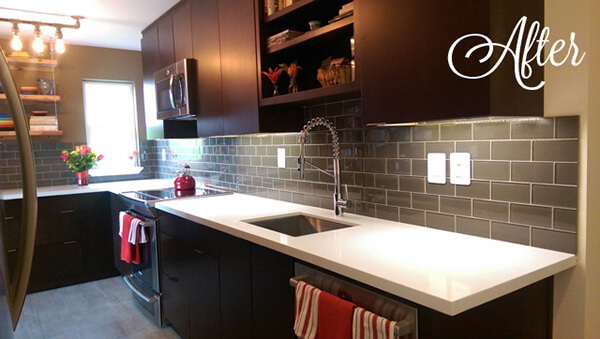 She works with her clients to create homes that make them happy—not necessarily homes that showcase the latest design trends.  She speaks from experience, having experienced a divorce and the subsequent feeling of being stuck in a home that didn't work for her anymore.  By refurnishing her own house, she learned how to move on without moving out.  She is passionate about helping other people experience the transformative power of their home.
I am definitely booking a transitional design session with Rebecca.
Just as soon as I clean my house up a bit and redecorate maybe a little.
So I'm not embarrassed when she comes over…..