A Collector's Best Tips for Curating and Displaying Art
How to Collect and Display Art
One of the topics people have asked me to blog about is displaying art in the home.
I have no idea why they are asking ME. My wall decor consists of: things my kids have drawn, photographs I have taken, and posters from favorite art exhibits. All tastefully framed, of course. Well, most are tastefully framed. OK I admit that some are hung with that sticky stuff from the hardware store.
Maybe it's time for some interior design electro-shock therapy at my house.
My friend Debra, on the other hand, has a home full of Real Art. She graciously agreed to let me photograph her collection and grill her on how to collect and display paintings and sculptures. I love hanging out at her house as there is always so much to look at, and of course I always stand firmly in the More Is Better camp.
Debra and her husband have paintings, sculptures, folk art and assemblages on display. Every room in their home is a mini-gallery.  So I asked Debra how to collect art, and how to display it at home.
Debra actually moved to Seattle to study with Jacob Lawrence at the UW Fine Arts graduate school program. She figured that she might as well study with someone famous in a gorgeous city and she fell in love with Seattle immediately. (Way to butter up the Seattle lovers here.) So Debra is not only a collector, but is also a seasoned artist and photographer. Many of her Lawrence lithos are from the years she studied with him. She displays some of his work in her front entrance.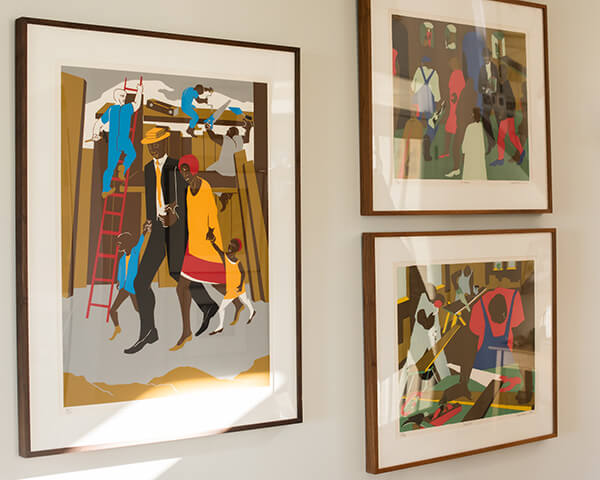 Much of Debra's collection was actually purchased from the artists themselves, many from close friends, professors and people she admires. Part of what makes the artwork special to her is knowing who made it, and also the idea she is supporting her friends and colleagues.
So how does one go about deciding what goes where?
Well, first of all, scale is important. The piece has to fit the space where it will live. The size and shape of this vertical glass piece by Ann Gardiner is perfect for the narrow vertical wall between Debra's dining and living rooms.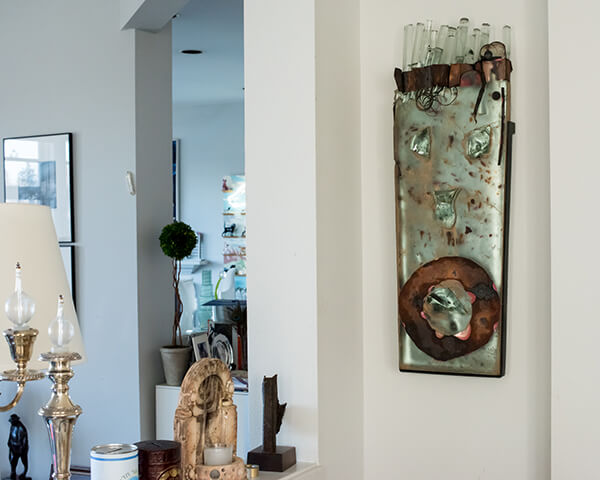 How to get started with displaying art? Debra says, "find something you like. Buy it. Incorporate it into your living environment. If you buy something that makes you happy, or something that you can relate to, you will enjoy living with it.  (There is a lot of art that makes me happy.  Unfortunately, it also comes with a price tag that has many, many zeros at the end of it.)
Here, Debra has juxtaposed a plant-like Dale Chihuly piece, "Small Green With Crimson Edge" with an orchid, for an interesting take on art imitating life. Or life imitating art. I'm sure it's one or the other.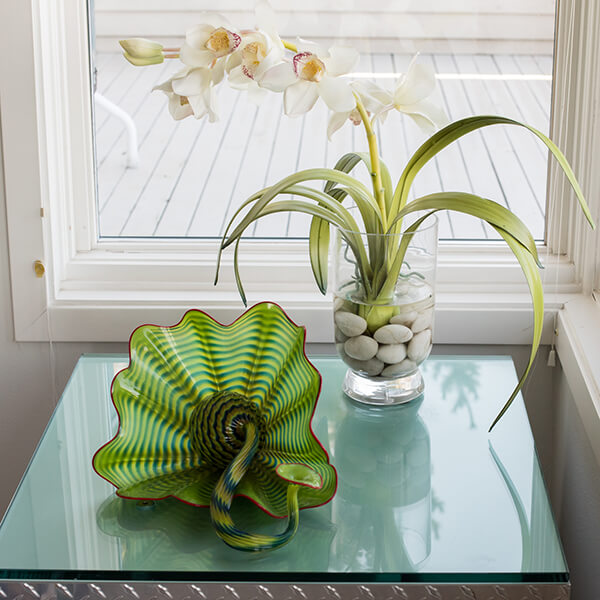 Debra explained that there are many ways to buy art. You can buy expensive blue chip art, that will maintain it's value or increase in value over time. Or you can just collect art you like. Or, it can be a combination—it can be an investment and still be fun. Find something that makes you happy. Or start with a piece that you can relate to in some way—perhaps it triggers a mood or a feeling for you.We talked about protecting your art and Debra gave me five essential tips:
1.  Don't skimp on earthquake wax! We live in Seattle. This means earthquakes. But if you live in hurricane country or Tornado Alley, then this might apply to you, too. Earthquake wax or museum putty is inexpensive and easy to apply. Use it to secure collectibles to keep them from falling and breaking.
2.  For photographs and prints, use glass that filters out UV rays, which can damage paper-based work.
3.  Use acrylic cleaners on plexiglass, not acetone, which is for glass.
4.  Avoid yellowing your original art pieces by using acid-free mat board. You can save money on the framing, but don't skimp on the products that go next to your work.
5.  Put art in unexpected places. The bathroom, for example, is a great place to show off an unusual piece that might not work elsewhere. After all, people need something to contemplate in the bathroom.
"Other strategies to best show off your collection include mixing and matching. I love this vertical display of two Fornasetti wall plates and one African folk art mask. They are completely different in design and material, but their common theme is the face."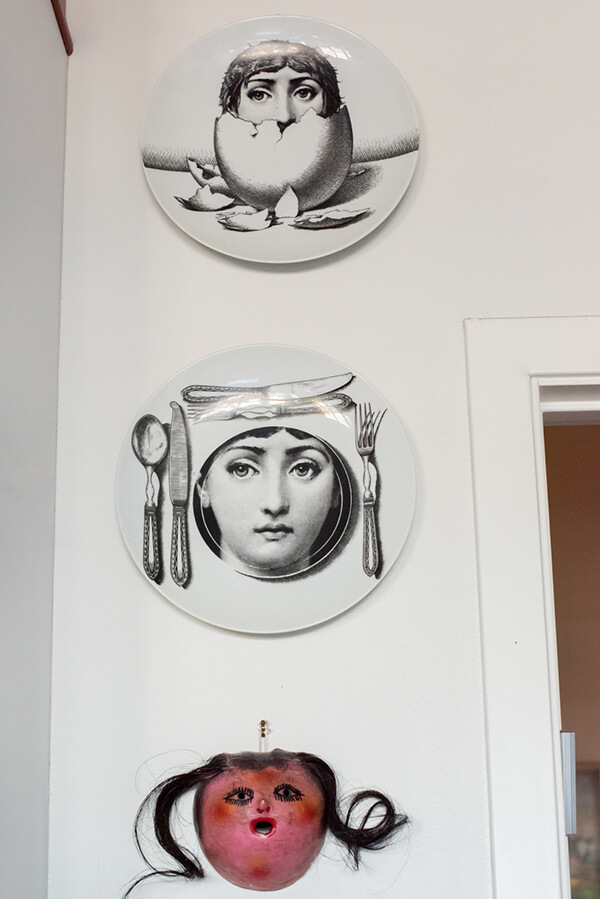 You can contrast materials, shapes, and themes, like this collection of "Creatures and Pedestals" by Jeffrey Mitchell, displayed on the sideboard buffet right under the encaustic wall piece, "Speculativa Philosophia," by Dennis Evans.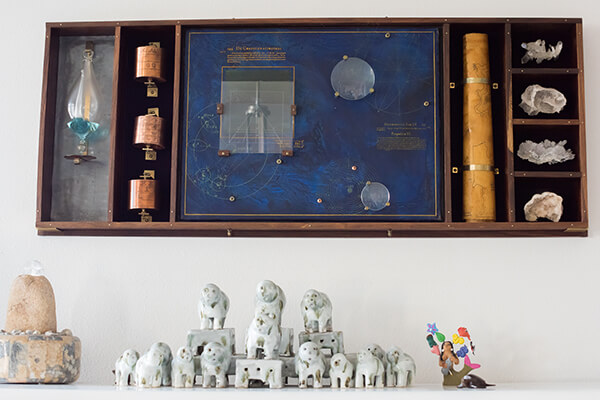 "If you can't decide where to place your pieces, then invite your friends over to help you out. Some people rotate art all the time. I'm not a big fan of nail holes, so I'm not a big rotator."
As we walked around Debra's house she elaborated on living with art. "It has depth. Art with depth tends to grow on me with time. I'm fonder of it when I live with it. That's what great art is to me."
Artwork can play off a relationship with a household item. In Debra's entrance, a glass sculpture, by Nancy Mee works well with the coat rack right next to it.  When placing work above a piece of furniture, such as a sleeper sofa or recliner, remember to orient the piece to the shape of the wall, and to keep the art at eye-level, so it looks as though it relates to the furniture.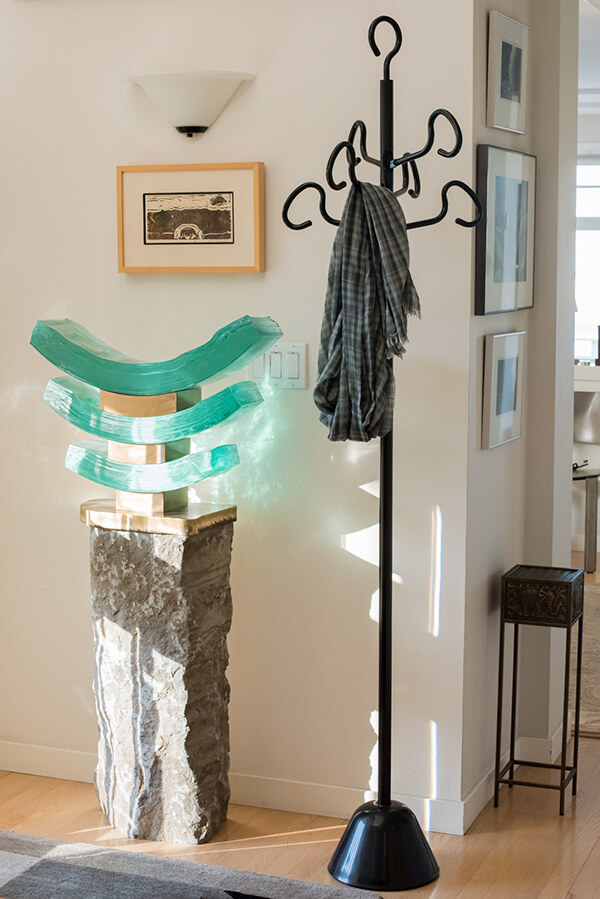 She drew my attention to a sculpture in her dining room, and how it caught the light streaming in through the windows. "The way the light hits, it changes all the time. It sets a mood. And as the mood changes, it operates on lots of levels. The texture and the tones in this piece, 'Painted Steel,' by Penny Milligan, a local sculptor, inspire the whole feel of the dining room."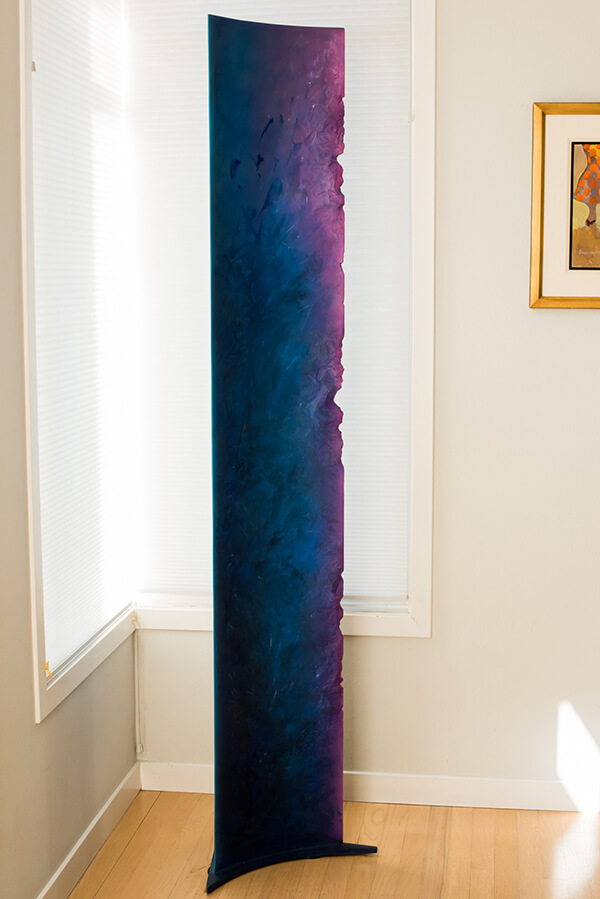 Debra collects sculpture, painting, photography and folk art. Neon art. Assemblages. "I have eclectic taste," she explained. "I can enjoy and appreciate investment art and I can appreciate folk art and even children's art. If I like it, I can display it. If I get tired of it, it wasn't meant to be."
OK, I can wait. When she gets tired of my favorite piece, the junk assemblage bulldog by Leo Sewell, I'll be waiting. And I promise to put it in an unexpected spot. Maybe my bathroom.