Sleepers In Seattle Employees Reveal Their 7 Favorite Sleepers, Sofas and Chairs
Favorite Sleepers from The Team at Sleepers In Seattle
I was wandering through our local bookstore the other day, reading the little cards on some of the books identified as "Staff Picks." And thinking, "why can't we have Staff Picks at Sleepers In Seattle?" Well, why not, indeed? I will institute that!  Here are the favorite sleepers from some of our team members
But I worried that if I asked the employees at Sleepers in Seattle which was their most-loved piece of furniture, they might not have a clear favorite. I am here to say I was WRONG and that each person had a distinct preference—in color, style and most of all, comfort. Did I mention comfort? Relaxation potential was an important element of each staff member's choice.
Jake took me straight to the Natuzzi Rubicon Leather Queen Sleeper in Matera Dark Brown. He stretched out to show me how comfortable it is. "I like that the mechanism is self-contained, and the price point is really good. Natuzzi's high quality leather is exemplary," he emphasized.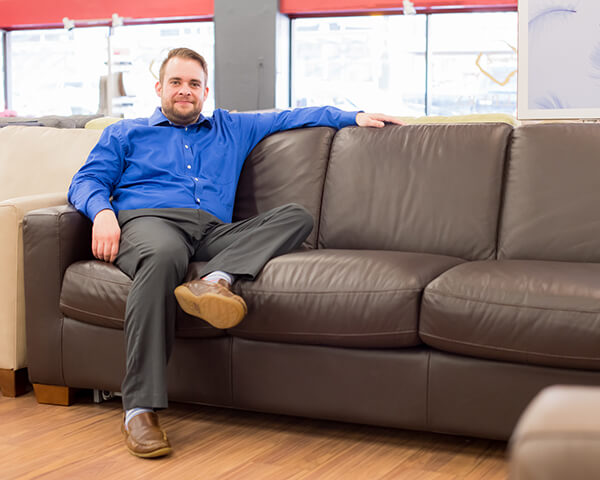 Next up was Mike who had a clear favorite: the Stressless Red Leather Skyline Chair in Paloma Tomato Leather. What a mouthful. But just look how luxurious it looks in the image, modeled by Mike. "It's comfy—you sit in this chair and it's Nap Time. The leather feels like a glove, so soft and supple. Great lumbar support, and the adjustable headrest is perfect for my height, 6'2". And best of all: they are Norwegian—Like Me!" he said, as he dozed off.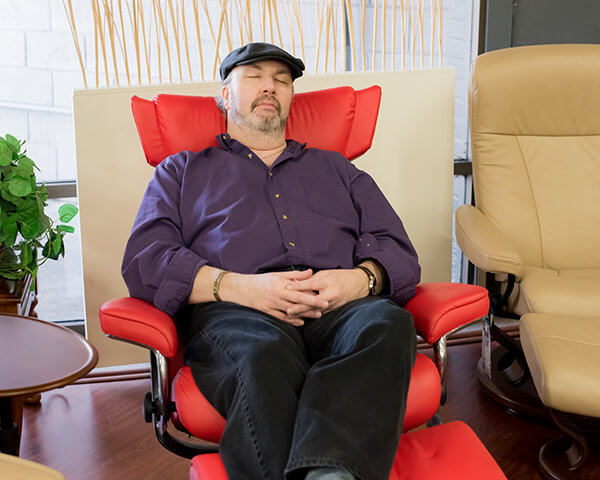 OK, interesting, Both employees so far have demonstrated how great the furniture at Sleepers In Seattle is for relaxing on. Which makes me wonder what goes on there when I'm not around.
Another leather lover is Liz who chose the Savvy Boulder Full Sleeper in Durango Acorn. "I love the texture of the leather," she told me. It's a full sleeper, so it's big enough for a couple to be cozy, or one person to be comfortable. It's got a timeless look—basic brown leather—that could go well for either gender."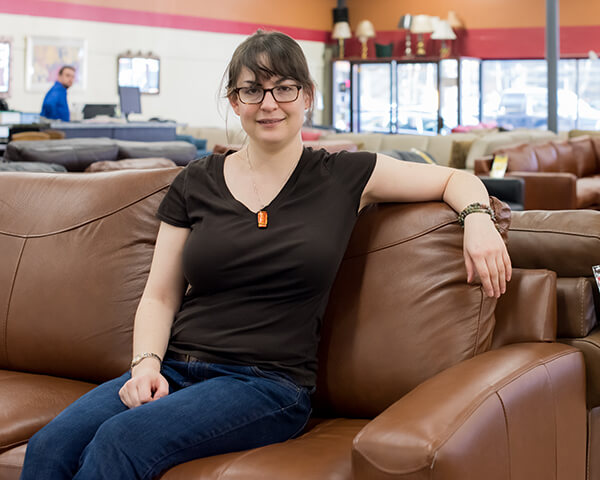 Then Leanne weighed in. Her favorite: the Savvy San Francisco Queen Sleeper in Spartan Tweed. She outlined her reasons. "I like that it has reversible cushions and a deep seat. The arms are as high as the back, so you can easily get as much support from the sides as the back. Which make it an excellent reading couch!"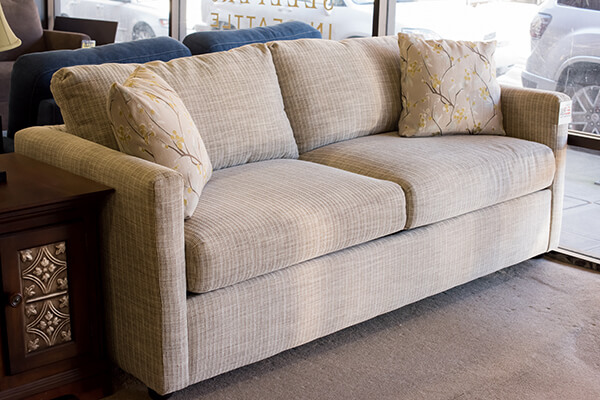 David walked straight over and laid on the Stanton 225 Sofa in Caprice Truffle. "I love the down seating. It makes for a luxurious lounge. For me, it's more important how it sits than how it looks. It's all about the down seating." He promised to go into more detail after his nap.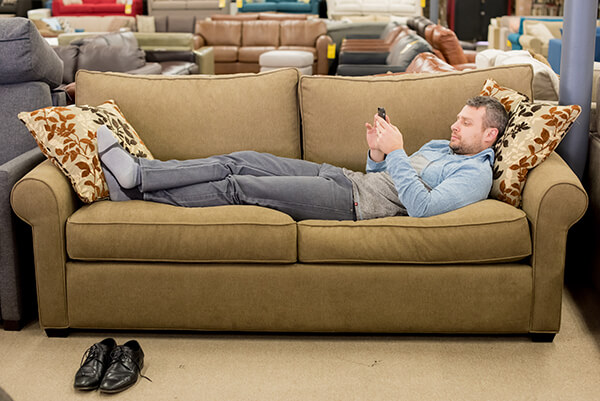 Karyn explained, "if I had an American Leather Comfort Sleeper, I'd be proud to have someone sleep over—and when my husband snores…….I'd go and sleep on it!" She loves the height of the back cushions on the American Leather Payton Queen Sleeper in Jacobs Charcoal, because her back and shoulders are supported.  "You can get the back upholstered with buttons or not—I like that there is a choice."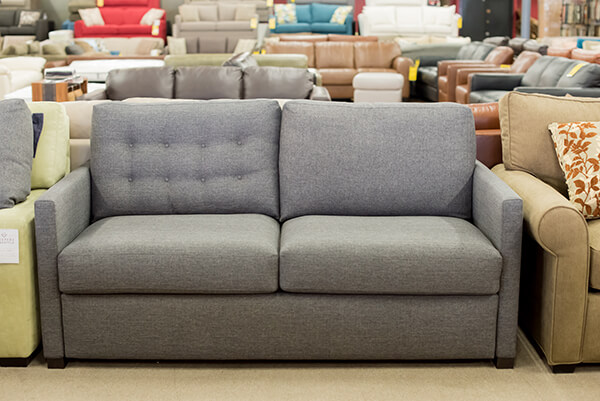 Carlos also chose American Leather. He made a beeline to the American Leather Kalyn Queen Sleeper with the gel mattress. He established how comfortable it was by lying down on top and demonstrating the Katlyn's nap potential, due to its low profile arms. Carlos emphasized how practical all American Leather sleepers are, whether they are upholstered in leather or, as this particular Katlyn is, in a textured microfiber. "It's easy to open and close, and the gel mattress provides a cooler sleep surface for those of us who sleep 'hot.' " He said to wake him up later.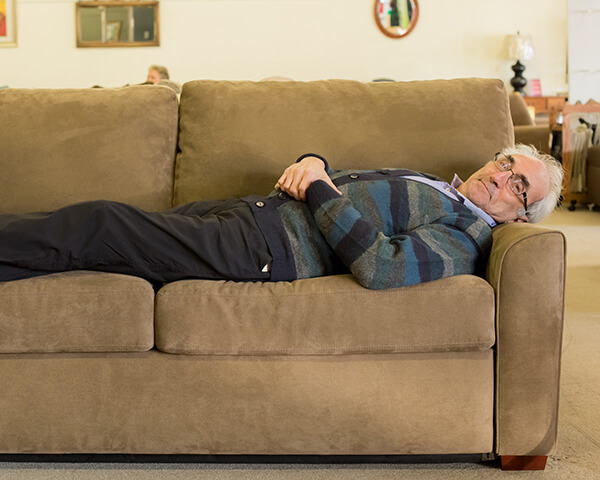 So there you go, our staff selections for favorite sleepers! As for me, it's too hard to choose a favorite. How would I choose? Most luscious leather? Most comfortable? Best mattress? Lowest price? Highest price? Fits in my living room? Plays well with my other furniture? I'll check back in when I can make a decision. After my nap.