Learn Seven Secrets of Home Staging
A visit with Jon Rosichelli of Rosichelli Design
True Confession:  I'm intimidated by interior designers.  They actually know stuff about furniture and decor that I should know after 25 years in the furniture business, but that somehow I have failed to absorb.
So it was with a bit of trepidation that I cruised over to Jon Rosichelli's huge warehouse/office space to interview him about the principles of home staging.  But……..Jon is so engaging, and so articulate about interiors and design that I felt comfortable right away.
Jon boasts a long background in retail cafe management and in the antique business.  He had been a collector since early years, and he transitioned into selling antiques in mall spaces both in Portland and Seattle 23 years ago.  And I love shopping at antique mall spaces so we had a lot in common!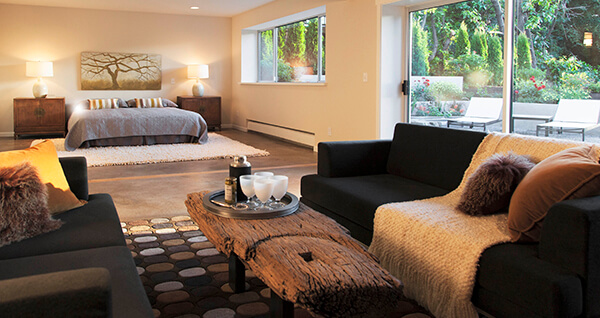 I heard how Jon got started in the home staging business with Jan Sewell, some 20 years ago.  Jan was the first person to do retail staging in the Seattle area.  They would empty her house and fill it up again to practice.  Jon explained, "there is great design everywhere you look—it wasn't hard to find great elements to use."  They shopped at Goowill, but also raided TJ Maxx and Target.  "They knock off from the best people."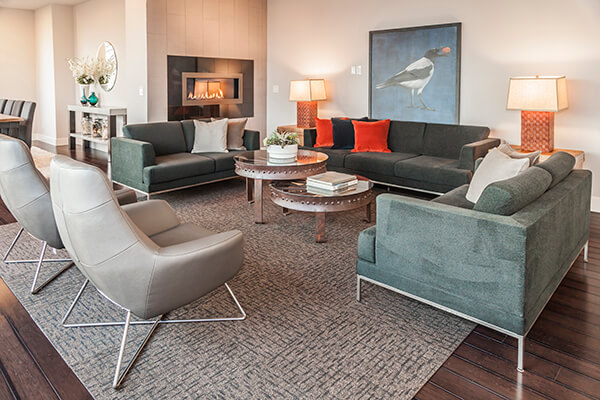 We talked about Jon's preferences when dealing in vintage home decor elements.  "I love being able to find humble items and elevating them.  There is a certain beauty in simple things.  I love patina and I love wear and tear."  Well, Jon, let me tell you—you'd LOVE my house.  It's a shrine to wear and tear after my three boys and their friends have occupied it for nearly three decades.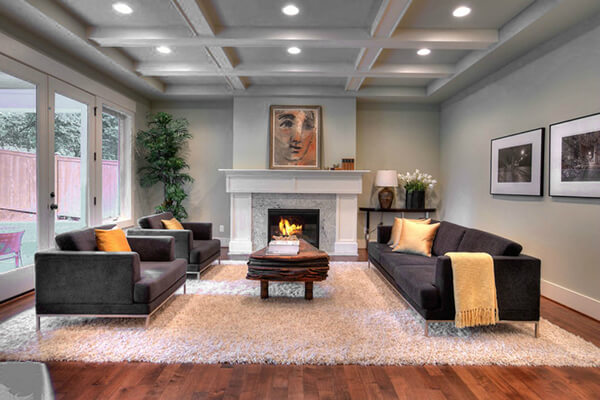 Here is Jon with a collection of vintage bronzed baby shoes, which illustrate this concept.  "A pair of baby shoes is cute, but 40 of them displayed together are an art installation."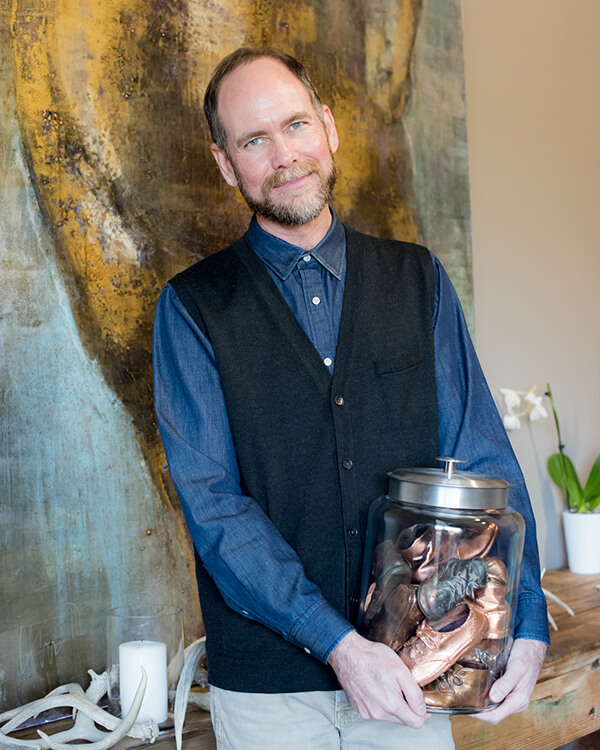 Jon also likes to mix old and new, and a textured element with a smooth one.  "Wherever you have something vintage, have something contemporary, and I always like to add something organic, like bones, plants, leather or fur.  Modern plus modern plus modern is not nearly as interesting."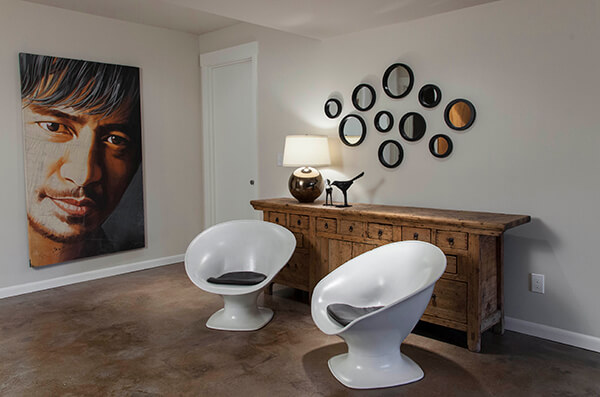 News to me, Jon clarified that if you are a collector, you don't have to display all 257 items in your collection.  "It's all about editing," he explained, as I was thinking about the huge assortment of tiny chairs I have at home, each and every one of them on display.  Oops.  An obvious decorating faux pas.
Jon keeps a huge warehouse of elements to use for staging homes.  Some of his favorite items include:
Original art
Found objects
Antique furniture
Vintage accessories
Industrial items
Here is a selection of just a few of his table linens.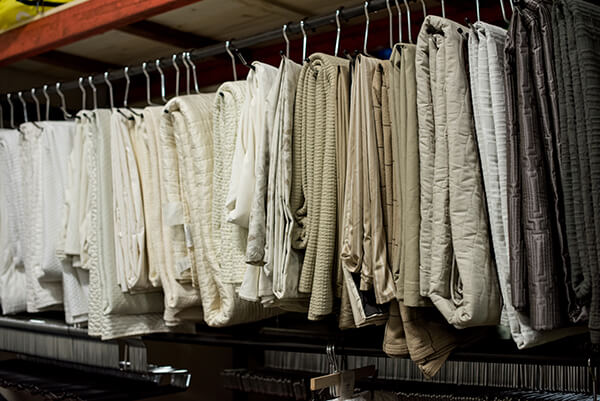 We walked through his enormous collection of furniture and accessories.  Hundreds of pillows!  Sheets in every size and color!  Tables!  Sofas!  Antiques!  Bathroom accessories!  I felt I needed a shopping cart but remembered that none of this is for sale.  Why the vast assortment?  At any one time, Jon is staging 50-80 homes.  And they all have specific requirements.  "If you're marketing a 3.5 million dollar waterfront home you can't use an Ikea print."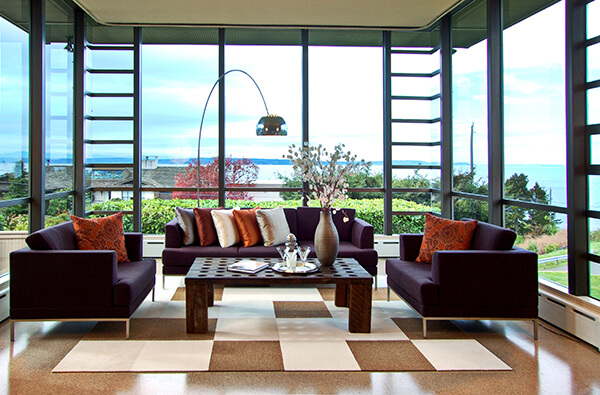 I asked if Jon ever uses sleeper sofas.  He said they weigh too much.  I gave my extra special secret tip of removing the mattress and tying down the mechanism when moving a sleeper.  I learned that from our delivery team.  I hope Jon was impressed.
"I really believe in supporting the local art community and I feel really lucky to do so," Jon told me.  He is a sponsor of the Seattle International Film Festival and 3 Dollar Bill's TWIST.  He also supports many local artists, who create work that Jon uses in his business.
When Jon stages a home, his aim is to create an emotional response in potential buyers, which leads to quicker offers and higher sales.  Here are some of Jon's secrets for staging a residence, which can also be used when thinking about optimal home decor:
Make sure space is clean and fresh. No popcorn ceilings.  No dirty carpet.
Give the home some soul by layering in a few vintage pieces.
Create memorable interiors by incorporating authentic and original elements.
Breaking some design rules makes rooms more interesting.
Avoid the catalogue look. Don't furnish an interior from just one source.
Show creative use of spaces. Perhaps a dining room used as an art studio.
Tap into emotional connections, and create aspirational living inspiration.
Wow.  Those are great suggestions.  Let's apply them to our own homes.
So in my home, I don't have popcorn ceilings or dirty carpets.  I have some vintage pieces.  Well, ok, they are old, rather than vintage, but whatever.  I'm on a roll.
Authentic and original elements?  My kids' art counts, right?
I must be breaking some design rules, as I don't know too many of them.  And my dining room does double as an art studio.  Or, rather, I have bits of art projects on and around the table, so we'll call it good.
Aspirational living?  My home aspires to the level of multi-million dollar waterfront chateau with picturesque gardens and a huge staff.  I try to humor it.
This entry was posted in
Informative
,
Meryl at Sleepers
,
Seattle
,
Sleeper Sofa Buying Guide
and tagged
COLORS
,
design
,
fabrics
,
furniture
,
home
,
interior design
,
Jon Rosichelli
,
lighting
,
sleeper sofas
,
staging
,
waterfront
. Bookmark the
permalink
.